ABOUT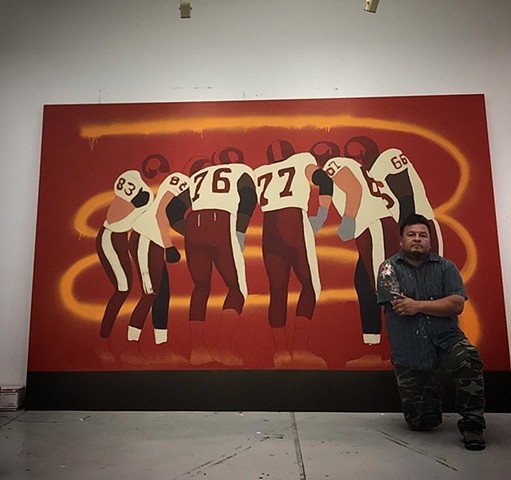 When working on a piece, I tap into the universal mind. The collective unconsciousness of the 21st century. Drawing images from advertisement, movies, television, music and politics. Expressing observation, as well as knowledge through experience.
Overlaping imagery to mimic the way the mind holds information: non linear and without seperation.
I don't need permission to make what I make. Never have...no artist should.
-Frank Buffalo Hyde



RECENT & UPCOMING EVENTS
2017
I-Witness Culture, solo exhibition, Lloyd Kiva New Gallery, The Museum Of Indian Arts and Culture, Museum Hill, Santa Fe, NM.
Meta Paintings: Frank Buffalo Hyde, solo exhibition, Art Ventures Gallery, Menlo Park, CA.
AIR, Art Ventures, Saint Helena, CA.
Cred, group show, Community Gallery, Santa Fe Convention Center, Santa Fe, NM.
IAIA Artist In Residence, Institute of American Indian Arts, Santa Fe, NM.
2016
#FBH, solo exhibition, Dairy Center for the Arts, Boulder, CO.
Frank Buffalo Hyde, solo exhibition, Tansey Contemporary, Santa Fe, NM
Into The Future: Culture Power in Native American Art, group show, The Museum of Indian Arts and Culture, Museum Hill, Santa Fe, NM.
Hands off My Heritage, group show, Duhesa Gallery, Colorado State University, Ft. Collins, CO.
HITCH, Public Art Project with The Santa Fe Arts Commission and Curate Santa Fe, Santa Fe NM.
LA Art show. Los Angeles, CA. Convention center
2015
Native American Works on Paper:Octopus Dreams,Funabashi City, Japan
Imperial Red Release Party,Label Artist Gold Medal winning Beer, Marble Brewery, Albuquerque,NM.
Banner Competition Finalist,Tom Tom Founders Festival,Charlottesville,VA
Buckskin to Bikinis: Haudenosaunee Wearable Art, The Iroquois Indian Museum, Howes Cavern, NY
Public Art Mural, Permanent Campus Collection, Institute of American Indian Arts, Santa Fe, NM


RECENT PUBLICATIONS
2017
"Frank Buffalo Hyde: I-Witness Culture", Review Written by Jon Carver
APRIL 1, 2017: The Magazine
"Sex Pistols, The Hulk and Zombies: Paintings of Frank Buffalo Hyde", Written by Alez Jacobs
FEBRUARY 18, 2017: Indian Country Today
"Cultural Atlas: Frank Buffalo Hyde", Written by Carmelina Hart
FEBRUARY 16, 2017: KRQE NEWS
"#Native: Frank Buffalo Hyde on indigenous life and social media", Written by Michael Abatemarco
FEBRUARY 3, 2017: The Santa Fe New Mexican
"Twisting tradition: Artist puts a modern spin on Native American themes", Written by Kathaleen Roberts
JANUARY 29, 2017: Albuquerque Journal


2016
"FRANK BUFFALO HYDE AT THE TANSEY CONTEMPORARY", Written by Wolf Schenider
AUGUST/SEPTEMBER 2013 ISSUE: Cowboys and Indians Magazine
"In Santa Fe, The Past Meets The Future", Written by Amanda Fortini
MARCH 2017: Travel + Leisure Magazine
"In His Own Skin", Written by John Muller, Photos by Kate Russell
AUGUST 2016: New Mexico Magazine
"THE Magazine" Cover Artist, Santa Fe, NM.
2015
"Frank Buffalo Hyde", Written by Enrique Limon
AUGUST 18, 2015: The Santa Fe Reporter